Girl power and IRC leadership
Now downwind, homeward bound back from the Fastnet Rock, the overall IRC leadership has shifted in favour of the bigger boats. With this, there is some excitement sparking up around the Rolex Fastnet Race Village at Plymouth Yacht Haven with the women's Volvo Ocean Race team, Team SCA, moving into first position. This morning the pink VO70 had edged ahead in the IRC Canting Keel class, and this afternoon they have taken the overall lead.

However they are being seriously threatened by the all-male crew led by Ian Walker on Abu Dhabi Ocean Racing, currently just over a mile astern of Team SCA. While there are three male coaches sailing on board Team SCA, including Kiwi veteran and multiple Volvo Ocean Race winner Brad Jackson, the rest of the crew is female.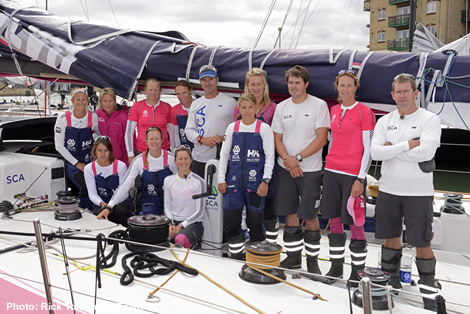 Former Olympian, multiple Laser Radial and Europe World Champion and Volvo Ocean Race sailor, Carolijn Brouwer, is on board, along with British Vendée Globe sailor Sam Davies and Olympic match racer Annie Lush. "We are currently ahead - it is very close, very exciting!" said Bouuwer. "We have them [Abu Dhabi Ocean Racing] in sight for the whole night and they are just to windward behind us a little bit. It has been very competitive racing so far."

Brouwer, originally from the Netherlands, who was helming Team SCA at the start, said that although the Rolex Fastnet Race was the team's first official race, for the crew it represented another step in their training for next year's round the world race.

"We are in 9-10 knots of breeze and conditions are very, very tricky," Brouwer continued. "We have been doing a lot of manoeuvres and a fair few changes - we are just focusing on keeping them clean and tidy." They have used being in contact with the Abu Dhabi Ocean Racing VO70 to compare their performance. "Conditions are extremely tricky and it will only get trickier the closer we get to Plymouth. We just need to keep focused and keep chugging along, like we have over the last couple of days and hopefully it will all turn out okay."

At 1600 BST, Team SCA had 120 miles to go and was 27 miles from Bishop Rock to the west of the Scilly Isles.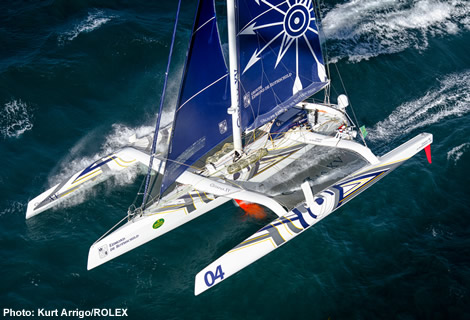 Four home

To date the four fastest racing multihulls are the only finishers with the Sidney Gavignet-skippered Oman Air-Musandam third into Plymouth at 04:16:02 BST and the Seb Josse-skippered Edmond de Rothschild finishing at 12:08:39.

The next arrivals will be the maxi-monohulls, the Gazprom-backed Esimit Europa 2 and Mike Slade's ICAP Leopard, the former due across the line at 0100 BST tomorrow morning. At 16:00 this afternoon, Esimit Europa had passed Bishop Rock and was due south of the Scilly Isles with her heavier rival 22 miles astern of her, however their boats speeds had dropped to a sluggish 6.6 and 7.5 knots respectively.

Of significance for all the boats is a ridge of high pressure, the centre of which is due to pass south of the Scillies this evening before heading south tomorrow morning. This will cause the breeze to lighten to the north of it, which will affect the Maxis and 70 footers, while the boats crossing the Celtic Sea will benefit from the wind backing into the south-west, allowing them to reach directly to or away from the Fastnet Rock.
At 12:33: 22 BST, Johnny Vincent's 52ft Pace was the third around the Fastnet Rock in IRC Zero, some way behind the Mini Maxis, where Hap Fauth's Bella Mente remains leader on handicap.
"It was very light when we went round," reported Pace's navigator and former Volvo Ocean Race winner, Jules Salter. "We gybed round the mark and there were a couple of bigger boats that were becalmed when we approached, but luckily the wind filled in and we were able to get around there and wriggle our way around the exclusion zone and out."

Salter said that Pace was sailing a tight angle in 12-13 knots of wind. "We have been trying to hang in with the bigger boats, and we managed to save our time in the upwind bit, so, now we are downwind, we are hoping we can slip away from the boats around us."

Salter gave Pace's ETA into Plymouth as Wednesday afternoon. "It is downwind most of the way, but it probably favours the smaller boats behind us, but you never know."

This afternoon the wind has backed all the way into the SSW at the Fastnet Rock, but is forecast to revert back into the west-south-west by tomorrow morning.

In IRC One, this afternoon Piet Vroon's Ker 46 Tonnerre de Breskens was leading her class on the water around the Fastnet Rock, but it remained Nicolas Loday and Jean Claude Nicoleau's Grand Soleil 43 Codiam, some 25 miles astern, that led this class under IRC.

Andrew Pearce's Magnum 3 is one of four Ker 40s competing in IRC One and is currently lying 11th in class, with 10 miles to go to the Fastnet Rock.

"It is going pretty well at the moment," reported Magnum 3's Henry Shepherd. "We have got 12 knots of breeze and we are seeing 9.5-10 knots of boat speed at times. We are hoping to be lifted up and round, but we are not sure how that is going at the moment. There is no wind at the Rock - we hope that is going to play into our favour."

Looking ahead, Shepherd was concerned that the wind might have backed more into the south by the time they rounded the Rock as they would put them on to a beam reach, which isn't Magnum 3's favourite point of sail. "Hopefully we can get around, get the big kite up and sail to our rating for a couple of hours. That might take us away from some of the slower boats, that are unfortunately still around us."

Shepherd believes that Magnum 3's ETA into Plymouth will be sometime on Thursday morning.
Behind, Samuel Prietz's A-40 Vitaris is back into the lead in IRC Two. She is currently the westernmost of the front runners in her class with 30 miles left to go to the Fastnet Rock.

In IRC Three, Jean-Jacques Godet's J/120 Rhapsodie V continues to lead under IRC rating, while the father and son Pascal and Alexis Loisin's JPK 10.10, Night And Day, was ahead in the Two-Handed class overall.

Finally in IRC Four, the leader, both on the water and under IRC, is Noel Racine's JPK 10.10 Foggy Dew.
Back to top
Back to top