Game, set and match to Yann Elies
Wednesday July 11th 2012, Author:
James Boyd
, Location: none selected
07:18:53 UTC this morning, Yann Elies and his Groupe Quéguiner - Le Journal des Entreprises was first to arrive into Cherbourg-Octeville to claim leg three of this year's Solitaire du Figaro - Eric Bompard Cashmere as well as overall victory.
Last year's rookie class winner Morgan Lagravière was second to finish and claimed a well deserved second place overall aboard Vendée, with Nicolas Lunven on Generali fourth home, taking the remain spot on the podium, just three minutes behind Lagravière on cumulative elapsed time after three legs. Thomas Normand, skipper of Financière de l'Echiquier is crowned the first rookie.
For Elies victory has finally arrived in La Solitaire on his 13th attempt. It is also 33 years since his father Patrick won the event, claiming all four legs of the 1979 race. Elies has been particularly hungry for victory this year, mounting his campaign with his own money before finding a partner at the last minute in Groupe Quéguiner - Le Journal des Entreprises. With victories in the first and third leg, and coming third into St Gilles Croix de Vie on leg two, Elies nearly equally his father's record.
It should be noted that Elies is the third consecutive former IMOCA 60 to have lost his sponsor and then gone on to win La Solitaire, following Armel Le Cleac'h's victory in 2010 and Jeremie Beyou last year. Both have since acquired new IMOCA 60 sponsors and are competing in this year's Vendee Globe. We very much hope Elies is able to do the same.
The skippers staggering ashore this morning, zombie like and unshaven. Yann Elies admitted going beyond the limits of fatigue. Such was the state of Morgan Lagravière that he stated "it's too hard - I will not sail a third Solitaire." But then they all say that... Nacarat skipper Erwan Tabarly, third into Cherbourg admitted having given everything on this leg.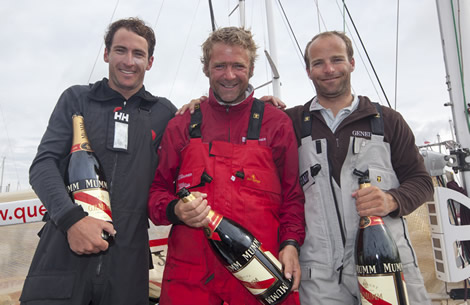 Yann Elies: "It was my 13th [Solitaire], so it was time! After twice coming so close to the goal, I'm really happy, particularly with this addition [leg] victory at the end. But the amount of pain you have to endure to achieve those wins! The three sailors behind me are future champions. One of them has won the Solitaire, the other two will also win one day. They are very strong. This just required me to be on another planet, on my own little cloud, to be in the fight. It looks easy from the outside, but it's still extremely difficult to achieve. It's always full of doubt, and requires much risk taking. I think I'm mature. It's been so many years that I've sailed in the Figaro, that all the tricks and settings, just come to me, there's no need to think, emprinted on me after 13 Solitaires. I think of my father (who won the race in 1979) - my parents are in Polynesia and are watching it closely. I think of my son Titouan because I won my first leg in 2002, the year he was born here in Cherbourg. I thought about that throughout the Solitaire. I said I must win in Cherbourg. "
Morgan Lagravière said: "I am pleased. I'm so tired, but I'm really happy. This is the finest result of my career, even though it is not really a victory because I'm second. It took a lot of suffering. You can say what you want, it's a really tough race, La Solitaire. And on legs like this, as you sail along, always in close combat with your competitors... it feels like a day of Olympic sailing but a 50 or 60 hour version. I'm torn between my performance and fatigue. But I am the happiest of men, perhaps even more than Yann today! There were a lot of twists and turns in this race, hard times, easy times, conditions where I sailed well. What I say to myself, here, is that I do not think I would come back a third time [he said the same thing last year]. It's too hard. I don't feel the energy of do it again." (But then Morgan said the same thing last year, after his first Solitaire)

Nicolas Lunven said: "I'm very happy. Yann had a small cushion over Fabien [Delahaye] and Morgan Lagravière but it was very tight. So I'm really happy. This step was tricky! Meteo Consult didn't deceive us: very irregular and unstable winds. So finally some sleep... Even last night, after the Needles Fairway Buoy, the wind was so variable that it had to be over. It feels good when it stops! "

First rookie Financière de l'Echiquier skipper Thomas Norman said: "I feel quite divided on this victory because Julien [Villion] had ​​a great race on Seixo Promotion and I'm a little frustrated at not being able to compete with him. I'm still super happy to fulfill my goals for this race and win the rookie class. This has been a dream for the last six months of intense preparation. It hasn't sunk in you, but I filled one of my goals this season. I had read and heard many things about the Solitaire, the accounts of sailors who said it was very hard and intense, but I did not expect that. It's a crazy thing, you have to do it to learn what it is and suddenly the victories of Yann and Jeremie last year take on another dimension. You understand the difficulty of achieving such a feat. Inevitably, we discover a little more every day during these races. We also understand our limits a little more than we imagined."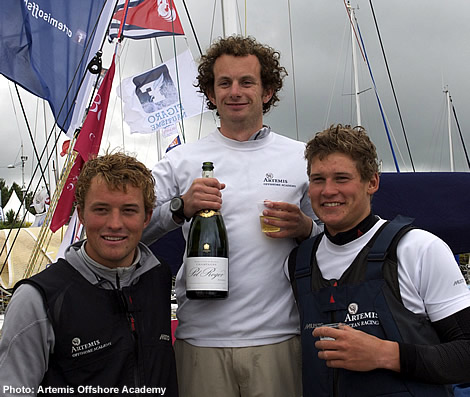 Among the Artemis Offshore Academy sailor Sam Goodchild on Artemis 23 had a good race, one he has been working towards since the start, finishing leg 3 11 minutes behind leg three and overall winner Yann Eliés. Henry Bomby on Artemis 37 and Nick Cherry on Artemis 77 both had to overcome poor starts, from which they battled on to finish in 23rd/2nd Rookie and 26th/4th Rookie respectively.
The final leg of the Solitaire required the skippers to keep their sleep to a minimum with Goodchild estimating he got just three hours sleep in 72 hours of racing, and even then only in 15min catnaps. The final leg took the 36 skippers into British waters for the first time this year: "I enjoyed going down the south coast, there were good surfing conditions downwind, lots of close racing and sunshine," reported Cherry.
For Goodchild the final leg enabled him to race at the front of the fleet and see how they race: "Coming across the English Channel I changed my settings quite drastically half way through and went to being sailed away from, to being able to catch up, which was really encouraging!" Whilst for Bomby this leg taught him a lot about how to successfully handle himself when facing problems: "In the second leg when I had problems I was very frustrated and wasn't able to think clearly, but when I had the same problems in this leg I was calmer in dealing with it which meant I kept a clearer head throughout the problem solving which took about three hours – I was mentally stronger through the process."
Artemis Offshore Academy race coach Marcus Hutchinson goes on to explain this further: "It is often the way that younger skippers learn the most on the last leg, about their boats, about the race and about themselves. From what I can see and what I have heard from the three Academy sailors this is very much the case again. They probably all learnt more in this last leg than they have over the last 12 months."
John Thorn, Performance Director added: "It's great to end on a high note in this last leg of the 2012 Solitaire du Figaro. The Artemis sailors, Sam, Nick and Henry have made us proud."
Leg 3 finish times:
| | | | | |
| --- | --- | --- | --- | --- |
| Pos | Boat | Skipper | Arrived at | Time |
| 1 | Groupe Queguiner / Journal des entreprises | Yann Elies | 09:18:53 | 2d 20h 18m 53s |
| 2 | VENDEE | Morgan Lagravière | 09:22:24 | 2d 20h 22m 24s |
| 3 | NACARAT | Erwan Tabarly | 09:22:38 | 2d 20h 22m 38s |
| 4 | GENERALI | Nicolas Lunven | 09:24:50 | 2d 20h 24m 50s |
| 5 | SKIPPER MACIF 2012 | Fabien Delahaye | 09:25:26 | 2d 20h 25m 26s |
| 6 | BERNARD CONTROLS | Jean-Pierre Nicol | 09:25:40 | 2d 20h 25m 40s |
| 7 | CERCLE VERT | Gildas Morvan | 09:25:43 | 2d 20h 25m 43s |
| 8 | DLBC | Yoann Richomme | 09:25:48 | 2d 20h 25m 48s |
| 9 | SEIXO PROMOTION | Julien Villion * | 09:26:45 | 2d 20h 26m 45s |
| 10 | GROUPE FIVA | Alexis Loison | 09:27:23 | 2d 20h 27m 23s |
| 11 | GEDIMAT | Thierry Chabagny | 09:27:37 | 2d 20h 27m 37s |
| 12 | BANQUE POPULAIRE | Jeanne Grégoire | 09:28:15 | 2d 20h 28m 15s |
| 13 | SKIPPER HERAULT | Xavier Macaire | 09:28:22 | 2d 20h 28m 22s |
| 14 | ARTEMIS 23 | Sam Goodchild | 09:29:06 | 2d 20h 29m 6s |
| 15 | DESTINATION DUNKERQUE | Thomas Ruyant | 09:29:38 | 2d 20h 29m 38s |
| 16 | AGIR RECOUVREMENT | Adrien Hardy | 09:29:54 | 2d 20h 29m 54s |
| 17 | PRATI'BÛCHES | Vincent Biarnes | 09:30:53 | 2d 20h 30m 53s |
| 18 | GALETTES SAINT-MICHEL | Isabelle Joschke | 09:32:34 | 2d 20h 32m 34s |
| 19 | KEOPSYS | Charlie Dalin | 09:32:47 | 2d 20h 32m 47s |
| 20 | SEPALUMIC | Frédéric Duthil | 09:33:10 | 2d 20h 33m 10s |
| 21 | SKIPPER MACIF 2011 | Paul Meilhat | 09:33:12 | 2d 20h 33m 12s |
| 22 | IN EXTENSO experts comptables | Nicolas Jossier | 09:33:59 | 2d 20h 33m 59s |
| 23 | ARTEMIS 37 | Henry Bomby * | 09:37:12 | 2d 20h 37m 12s |
| 24 | BRETAGNE – CRÉDIT MUTUEL ESPOIR | Corentin Horeau * | 09:38:01 | 2d 20h 38m 1s |
| 25 | BRITANIE COSMÉTIQUES | David Sineau | 09:40:16 | 2d 20h 40m 16s |
| 26 | ARTEMIS 77 | Nick Cherry * | 09:41:24 | 2d 20h 41m 24s |
| 27 | FINANCIÈRE DE L'ECHIQUIER | Thomas Normand * | 09:44:49 | 2d 20h 44m 49s |
| 28 | JEHOL | Didier Bouillard | 09:53:10 | 2d 20h 53m 10s |
| 29 | KICKERS | Sebastien Picault | 10:17:14 | 2d 21h 17m 14s |
| 30 | ROFF | Francisco Lobato | 10:18:00 | 2d 21h 18m 0s |
| 31 | GROUPE SNEF | Jean Paul Mouren | 10:34:02 | 2d 21h 34m 2s |
| 32 | VOYONS LARGE | Eric D'Hooghe | 10:35:52 | 2d 21h 35m 52s |
| 33 | ONE NETWORK ENERGIES | Yannig Livory | 11:02:32 | 2d 22h 2m 32s |
| 34 | ENTREPRENDRE LAFONT PRESSE | Matthieu Girolet | 11:05:41 | 2d 22h 5m 41s |
| 35 | LA SOLIDARITÉ MUTUALISTE | Damien Guillou | 11:20:01 | 2d 22h 20m 1s |
| 36 | KRISTIN FOR FULLE SEIL | Kristin Songe Moller * | 11:23:54 | 2d 22h 23m 54s |
| 37 | BRETAGNE CRÉDIT MUTUEL PERFORMANCE | Anthony Marchand | 19:23:54 | 3d 6h 23m 54s |
Overall results (cumulative elapsed time after three legs)

| | | | | |
| --- | --- | --- | --- | --- |
| Pos | Boat | Skipper | Overall | Time to 1st |
| 1 | Groupe Queguiner / Journal des entreprises | Yann Elies | 8d 11h 6m 53s | - |
| 2 | VENDEE | Morgan Lagravière | 8d 11h 40m 41s | 0h 33m 48s |
| 3 | GENERALI | Nicolas Lunven | 8d 11h 43m 17s | 0h 36m 24s |
| 4 | SKIPPER MACIF 2012 | Fabien Delahaye | 8d 11h 47m 15s | 0h 40m 22s |
| 5 | GEDIMAT | Thierry Chabagny | 8d 12h 12m 26s | 1h 05m 33s |
| 6 | CERCLE VERT | Gildas Morvan | 8d 12h 14m 30s | 1h 07m 37s |
| 7 | NACARAT | Erwan Tabarly | 8d 12h 15m 10s | 1h 08m 17s |
| 8 | GROUPE FIVA | Alexis Loison | 8d 12h 31m 8s | 1h 24m 15s |
| 9 | SKIPPER MACIF 2011 | Paul Meilhat | 8d 12h 38m 35s | 1h 31m 42s |
| 10 | SKIPPER HERAULT | Xavier Macaire | 8d 12h 41m 16s | 1h 34m 23s |
| 11 | SEPALUMIC | Frédéric Duthil | 8d 12h 43m 42s | 1h 36m 49s |
| 12 | BANQUE POPULAIRE | Jeanne Grégoire | 8d 13h 31m 17s | 2h 24m 24s |
| 13 | IN EXTENSO experts comptables | Nicolas Jossier | 8d 13h 47m 55s | 2h 41m 02s |
| 14 | KEOPSYS | Charlie Dalin | 8d 13h 58m 48s | 2h 51m 55s |
| 15 | FINANCIÈRE DE L'ECHIQUIER | Thomas Normand * | 8d 14h 20m 35s | 3h 13m 42s |
| 16 | DESTINATION DUNKERQUE | Thomas Ruyant | 8d 14h 21m 42s | 3h 14m 49s |
| 17 | AGIR RECOUVREMENT | Adrien Hardy | 8d 14h 31m 23s | 3h 24m 30s |
| 18 | SEIXO PROMOTION | Julien Villion * | 8d 14h 31m 53s | 3h 25m 00s |
| 19 | DLBC | Yoann Richomme | 8d 14h 33m 38s | 3h 26m 45s |
| 20 | LA SOLIDARITÉ MUTUALISTE | Damien Guillou | 8d 14h 37m 33s | 3h 30m 40s |
| 21 | PRATI'BÛCHES | Vincent Biarnes | 8d 14h 58m 7s | 3h 51m 14s |
| 22 | GALETTES SAINT-MICHEL | Isabelle Joschke | 8d 14h 59m 30s | 3h 52m 37s |
| 23 | BRETAGNE – CRÉDIT MUTUEL ESPOIR | Corentin Horeau * | 8d 15h 27m 24s | 4h 20m 31s |
| 24 | ARTEMIS 23 | Sam Goodchild | 8d 16h 15m 52s | 5h 08m 59s |
| 25 | ARTEMIS 77 | Nick Cherry * | 8d 16h 22m 41s | 5h 15m 48s |
| 26 | BRITANIE COSMÉTIQUES | David Sineau | 8d 16h 47m 4s | 5h 40m 11s |
| 27 | ROFF | Francisco Lobato | 8d 17h 11m 40s | 6h 04m 47s |
| 28 | JEHOL | Didier Bouillard | 8d 18h 45m 32s | 7h 38m 39s |
| 29 | ENTREPRENDRE LAFONT PRESSE | Matthieu Girolet | 8d 19h 3m 49s | 7h 56m 56s |
| 30 | KICKERS | Sebastien Picault | 8d 19h 16m 21s | 8h 09m 28s |
| 31 | ARTEMIS 37 | Henry Bomby * | 8d 19h 27m 12s | 8h 20m 19s |
| 32 | BERNARD CONTROLS | Jean-Pierre Nicol | 8d 20h 56m 44s | 9h 49m 51s |
| 33 | KRISTIN FOR FULLE SEIL | Kristin Songe Moller * | 8d 21h 29m 47s | 10h 22m 54s |
| 34 | ONE NETWORK ENERGIES | Yannig Livory | 8d 21h 36m 49s | 10h 29m 56s |
| 35 | VOYONS LARGE | Eric D'Hooghe | 8d 21h 43m 29s | 10h 36m 36s |
| 36 | GROUPE SNEF | Jean Paul Mouren | 8d 23h 15m 56s | 12h 09m 03s |
| 37 | BRETAGNE CRÉDIT MUTUEL PERFORMANCE | Anthony Marchand | 9d 17h 18m 44s | 30h 11m 51s |
Back to top
Back to top