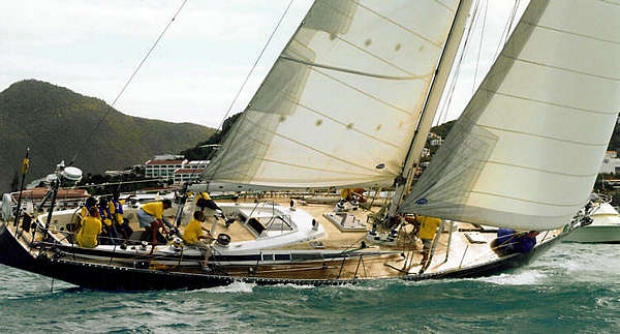 DaimlerChrysler enter DaimlerChrylser
It is not only as title sponsor of the North Atlantic Challenge that DaimlerChrysler will be taking part of this year's transatlantic sailing highlight. The German-American company is also going to enter the former Whitbread maxi
King's Legend
in the yacht race with a mixed crew made up of DaimlerChrysler employees from both Germany and North America.
The skipper and owner of the
King's Legend
is Dutchman Gijs van Liebergen, 46, who has extensive experience in ocean sailing. Accompanying him on the Atlantic crossing there will be in all eleven DaimlerChrysler employees. The first crewman works in Bremen, four others are working in Berlin and one works in Stuttgart. The American part of the entourage consists of one employee each from Ontario/Canada, Dallas/Texas and Portland/Oregon as well as two from Auburn Hills/Michigan.
By having this international team taking part in the exceptional Atlantic crossing on a yacht, DaimlerChrysler wants, on the one hand, to emphasise its closeness to both of the company's home countries, and on the other to promote the team spirit of the various parts of the company and help to knit them even more closely together. The number of employees interested in taking part was unexpectedly high. For the qualification procedures, about 800 applications were processed by the competent jury. Roughly 30 members of staff from both Germany and North America took part in the qualification camps. The selection criteria for this challenging North Atlantic crossing included not only sailing skills, but also fitness, team spirit and mental strength.
The crew will be meeting on 7 June in Newport near New York City, one week before the start of the DaimlerChrysler North Atlantic Challenge so that they can train together on the
King's Legend
before the start of the race on 14 June. The yacht, a Swan 65 built in 1975, is 19.84 meters long. Its previous owner, Nick Ratcliff, won second place on her during the 1977 Whitbread Around The World race. In 1999, the
King's Legend
was completely renovated and modernised by Gijs van Liebergen.
By entering this yacht with a crew of employees, DaimlerChrysler is rounding off its title sponsoring for the North Atlantic Challenge. The support for this high-class regatta, which will start in Newport, Rhode Island, and cross to Cuxhaven and then on into Hamburg, emphasizes the way DaimlerChrysler sees itself as a German-American company.
Back to top
Back to top