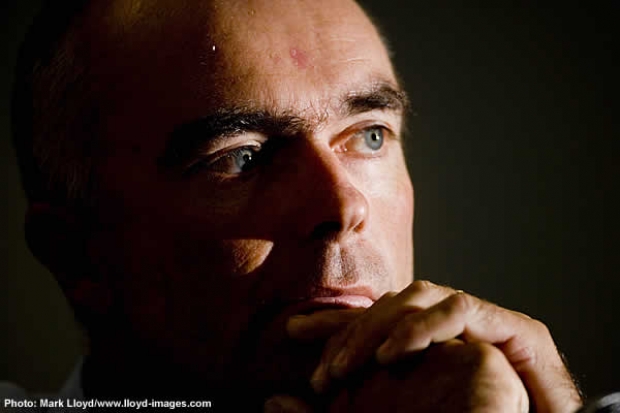 The fate of movistar
A press conference was held earlier for the movistar Volvo Ocean Race team, where Syndicate Head Petro Campos and skipper Bouwe Bekking updated the media on the position with their stricken yacht. On Sunday morning Bekking and his crew abandoned the yacht when with a force 10 winds forecast its keel appeared to be in danger of falling through the bottom of the boat.
"The reason we are here today is down to the seamanship and help that we have received and I would like thank Team ABN AMRO and particularly the crew of ABN AMRO Two," started off Pedro Campos. "I would also like to thank our crew because they were pushing to the very limit and doing their best. Their commitment to the project has been more than 100% and it had been proved through different moments through the race but especially in the last hours. And also I would like to thank the organisation of the Volvo Ocean Race because throughout the night they have been in touch with us and trying to do their best to achieve what we wanted overall which it to get all the crew safe.  I was in Madrid in communication with the directors of ABN AMRO and following situation minute by minute."
When the crew left movistar the keel had been more or less stabilised and a bilge pump was containing the flow of water. This was left running when they abandoned ship. Volvo Open 70s are fitted with Inmarsat C units that can be polled by remote from land and this equipment was also left switched on. However at present Bouwe Bekking said they appear to be able to get a position for the vessel. "The last position was more than a day ago and we had a beacon but that disappeared at ten o'clock on Sunday night so that's very bad news. The weather conditions improved today so much that we are able to send out a plane so we can get a visual sight on the area where the last position was known. There's an aeroplane right now on the way. The skies are relatively clear and the seas have slowed down a little bit and there is now 6-7 metres of swell over there. So the boat will be pretty hard to spot but this is the first thing we are doing.  A search and rescue vessel is on standby so as soon as the boat is spotted, that boat will take off and try to savage her.
The obvious theory about what has happened to
movistar
is that her keel has indeed fallen off (a la
Skandia
maxi in the 2004 Rolex Sydney-Hobart race) and this is the reason the various means of position fixing her have switched off. Bekking continued: "I hope the boat is still upright, I really have my doubts about it because of the damage and the amount of water which was coming in at such a rate and that was in quite fair conditions. Yet when the whole thing started it was 25 knots, and when
ABN AMRO Two
picked us up it was 10-15 knots. But the seas were getting higher and higher and especially with the forecast and we know there have been 10m waves and 50+ knots wind. So I have serious doubts the boat will be still be afloat. If not I think the keel may have fallen off and the boat flipped upside down.
"How the next couple of days will go we will have to wait to see. If they see the boat today, we will make a couple of decisions over the next few days as we have 25 people over here working for our team. There are families over here and of course we have obligations to our sponsors."
In the circumstances, the likelihood of
movistar
rejoining this Volvo Ocean Race would seem to be zero. "It a huge disappointment especially for myself as I wanted to win this race and I think it was the same for all the guys behind me.  It's just been fantastic during the entire campaign with movistar's support and as well as a special thanks to the
ABN AMRO Two
guys. They were in a very tough situation and they did a fantastic job to get us safely here.
"I don't think we will race this boat again even if we get her back. So some of us will come to Rotterdam, because there are some containers over there and of course we will show up at the final prizegiving in Gothenburg to show our respect for all the other competitors in this race. And hopefully we will be back, all of us are sailors."
Inevitably abandoning movistar, the Volvo Open 70 in which Bekking and his crew had travelled so far was an emotional one. "It's pretty tough. I had the hardest time last night when
ABN AMRO Two
came in because then I realised that these were the guys which brought us home. I have been working on this project of three years. All the other guys have been working on it for two years as well and it's really hard to make it successful. We've had a lot of down sides but we've always come back but  the moment we stepped off
movistar
I realised that this was not something we could come back from. This was the end of the race. So it sinks in and I will think a lot more in the next couple of days, but it hit like a hammer."
movistar
was built by Boat Speed in Australia to a design by Farr Yacht Design. The ploy of building in Australia was a deliberate one allowing the team to test out the boat in the Southern Ocean. During this time they set a new fully crewed 24 hour record. But from the start of the Volvo Ocean Race the yacht has provided no end of problems.
"We were 100% confident in the boat and in the first leg we had some structural issues and we had to retire from leg one," Bekking continued. "Then on the second leg we had some ram issues then everyone knows we had quite a nice leg into Wellington where we actually had a win and in general we were going very fast and I think that the boat was very competitive but we didn't score a lot of points basically because of all the retirements.
"The current situation even with all the retirements and the problems we have had, we are currently still in third place. So we can look at ourselves and look the guys in the eyes and think that we have achieved quite a lot. Coming back to the damage, we knew as well that we had some issues just before Cape Horn where the boat nearly sank and that is one of the things that comes back in our minds when on Saturday we had the problems with the keel again. What do you do at that stage? What do we do when it gets really bad and the pumps can't keep up anymore.
"We had  a long chat in Baltimore and everyone knew that the Atlantic can be very tough and we were 100% confident when we left New York for this leg. And at the moment it happened, everybody looked at each other and said 'here we go again'.
"There were no hard feelings in that sense it was just a matter of getting the boat home and when I came to that final moment, we had a lot of correspondence with race headquarters as well as with
ABN AMRO Two
just in case the decision was made that we get off.
"So all in all everything went very well. It was very relaxed and we have the entire procedure on video. You'll see from there that everything went very smoothly and professionally, but once I decided to abandon ship I gave all the responsibilities in that sense to Sebastien (Josse) on
ABN AMRO Two
because we were in their hands. And that communication has been really good.
"First of all we were all feeling quite relieved and I can speak for myself saying that when I jumped into the liferaft I knew that was really it and that was the moment we were really leaving the ship and I felt really happy I made that decision at that stage.  So when I got on to
ABN AMRO Two
, my first thing was to go over to Sebastien and all the guys individually and thank them as we understood as a group it was very hard for them to come back for us in the situation that they were in and we were very grateful to see our old mates back even though they are younger than us.
"And it was a very welcome feeling. We could see in the first couple of hours when we got on they were very down and not very happy but during the next 18 hours I saw them cheering up as a crew and we were a little bit of a distraction for them. So I think it worked out very nicely for them.  We could see how energetic and how good the team is."
There is a compelling argument being touted around that the Volvo Open 70 class with its complex canting keel arrangement are to advanced for hard core fully crewed ocean racing. However the ABN AMRO boats are testament that this argument is not fully valid. Bekking gave his opinion about the boat: "I think we are still a development class and the other thing you have to remember is we were the first Farr boat on the water and if you compare it with boats like the trimarans I think there are far less disasters in these boats and I still have the general feeling that they are a safe boat even though our boat didn't make it.  It is a development class and even on
ABN AMRO Two
the boat had structural problems before the race started. They implemented them on the second boat and then on the first boat and unfortunately we didn't have that chance. The Farr office made some differences to the other Farr boats built after ours so you see they have less problems than us.
"I personally hope that we can keep sailing on these boats in future Volvo Ocean Races. I think all the sailors - at least myself - love these boats. They are fantastic to sail. One of the reasons we always come back to this type of sailing is because we love the ocean, but as well we like fast sailing and we like the company of all the guys so I personally hope we will stay with the Volvo Open 70. We know a lot of things have happened but designers are not stupid and they are all thinking and a lot of people are communicating with each other to see what we can do to make the boats safer for the future. So,even if the race is in three years time we have enough development time and feedback from all the teams and I think that next time we will have a second generation class and we won't have any problems anymore."
Back to top
Back to top