M38s at Hamo
Sydney-based MC38 skipper Chris Hancock has won his first sailing regatta as an owner at the 30th anniversary of Audi Hamilton Island Race Week.
It was tight going into the decider but when the points from 10 windward/leeward and island races were tallied, Hancock's MC38 Vino had created some breathing space, prevailing over Leslie Green's Ginger by a comfortable five point margin.
It was touch and go today with a late charge from the Kiwis on Howard Spencer's black-hulled Menace, which "jumped out of the bushes and took everyone by surprise in the second half of the regatta", acknowledged Hancock.
Menace finished third on a countback in the latest owner/driver class, which made its Race Week debut at the stunning success that was the 30th anniversary event.
"We were leading around Pentecost Island when the Kiwis started bearing down on us with their big black kite and they managed to pass us just after Isolated Rock," recalled Hancock. "It was pretty intense, but thanks to great crew work by my team we were able to pick Menace up and hold them out all the way to the finish in Dent Passage.
"This is the first regatta I've won as an owner; I'm chuffed. The crew carried me on their shoulders," added Hancock, who has worked in the wine business with island custodian, Bob Oatley, for four decades. Hancock dedicated his divisional win to Bob and Sandy Oatley, "It's one for them" he said, recognising the enduring friendship.
On the class' first experience at Race Week Hancock added, "It's been a terrific week, the camaraderie has been fantastic."
Leslie Green had to fly home mid-week, leaving Ginger in the capable hands of his top crew. Mainsheet hand Peter Bourke acknowledged the great competition his classmates Vino, The Cone of Silence, Ghost Rider and Menace provided. "It was a fabulous week, Vino did exceptionally well", and on the OD class, "the MC38 class attracts great people".
Hamilton Island CEO Glenn Bourke is delighted with how the 30th anniversary event panned out.
"There are a lot of happy punters around. The theme of 1984 worked really well, people liked turning back the clock and certainly the $2 and $4 afternoon beer prices were a hit, as was the F-arm BBQ.
"The entertainment fit the demographic and the light air facilitated fewer arguments. I know from sailing on Wild Oats XI that there was great empathy between Ernesto Bertarelli and his Wild Oats X crew, Wild Thing and us. We had fun.
"The first Virgin direct flight out of Melbourne, which started on 15 August, was also really important for the event in terms getting sailors up and back. That was a big coup for the island and made life a lot easier for the yachties," Bourke added.
The MC38 class now returns to its regular one-design series in Sydney as they work towards a national championship in November on Sydney Harbour.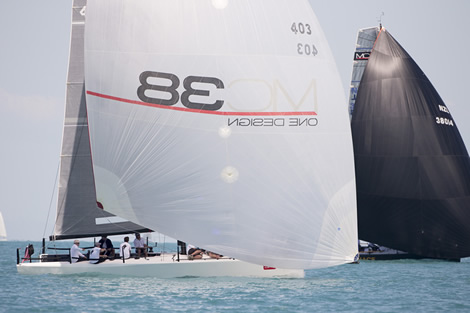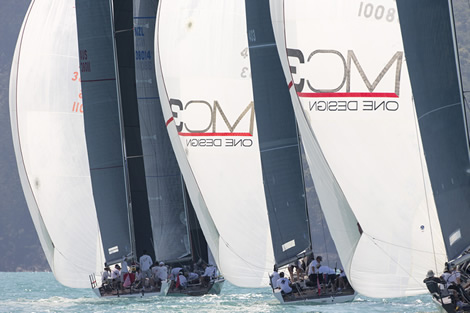 Back to top
Back to top