End of a glorious week
The final day of Aberdeen Asset Management Cowes Week dawned with very light airs that necessitated a postponement before a WSWerly breeze climbing to 10 knots kicked in. Although shifty at first it continued to build through the day, peaking with gusts of more than 20 knots.
The overall Sportsboat class result was one of those decided today, with Julian Cook and Caroline Aisher's Viper 640 Oh No leading the fleet on 8 points, followed by Jon Powell's Hunter 707 Betty on 9 points and Charlie Esse's modified J/80 Darwin Property on 13 points at the beginning of the final race.
Oh No led away from the line today, with noticeably faster acceleration on powering up immediately before the start gun than her heavier competitors. Betty was also well placed to leeward of Oh No and closer to the shore. Darwin Property was to windward in the leading pack at the gun, but was slow to accelerate and quickly fell back as the fleet short tacked in the narrow band of west-going tidal eddy close to the beach off the Green.
At the finish Oh No was first to cross the line, by an impressive margin of more than 12 minutes. However, she was not able to save her time on Betty, one of the lowest-rated boats in this fleet, who won today's race by three minutes on corrected time. Oh No's second place today leaves her tied on 10 points with Betty, with the count back resolved in the latter's favour thanks to her four race wins this week. Fourth place today for Darwin Property was sufficient for her to comfortably retain third place overall.
Going into the final day the overall result in the Etchells class was still wide open, with Rob and Ashley Goddard's Stampede on 15 points, just one ahead of Tarra Gill-Taylor's Darling S. Two boats, Andrew, Donna and Freddie Cooper's Ice and Shaun Frohlich's Exabyte V, were tied on 20 points, just four behind Darling S and were also in a position to take the overall class win.
In today's race, Jack Wilson's Idea initially leading the fleet towards the start, slowed just before the gun. This allowed Ice to get ahead, holding the windward position in a trio of leading boats, with Laurence Mead's Freelance in the middle and Exabyte V to leeward.
Ice had a disappointing sixth place today, wiping out her podium hopes. Darling S had an even worse day, posting seventh place today, but had enough of a points cushion to hold on to third overall. Exabyte V won today's race by 46 seconds, boosting her to second overall, while Stampede's second place today was sufficient to confirm her as overall winner.
The top three boats in the Daring class were only separated by five points going into the final race. Andrew Norton's Decoy led the fleet at this stage on 23 points, followed by Giles Peckham's Dauntless on 25 points and Anthony Balme's Dynamite on 28 points.
Today the fleet was led into the line by Peter Scott's Derring Do, who slowed in a cautious final approach, allowing both Giles Peckham's Dauntless and Larry Lugg's Ding Dong to get ahead. Further inshore, John Hackman's Double Knot was also well placed, with the fleet staying further offshore than the Etchells as the west-going tide continued to build in strength.
Peckham went on to finish today's race with a commanding lead over Jeremy Preston's Defender and Decoy. Peckham was also able to discard 19 points he picked up for starting prematurely on Monday, leaving him as overall winner again, counting just seven points. Decoy takes second overall with 19 points, while a combination of Defender's second place today, and a 19 point discard kicking in sees her take third overall on 26 points, just one point ahead of Dynamite.
Vying for the top
Five wins in the first six races gave the overall win in the Dragon class to Graham and Julia Bailey's Aimee with a day to spare. In contrast, there was a close fight for second and third places, with Eric Williams's Ecstatic leading Gavia Wilkinson-Cox's Jerboa by just 1.5 points at the start of the final race.
Aimie was out again today, in search of another win that would put her in contention for overall victory in White Group. She sailed another fast race, finishing with a lead of almost two minutes. Next was a group of boats that finished just 26 seconds apart, led over the line by Ecstatic, ahead of Chris Brittain's The Old Bailey, with Owen Pay's Furious crossing the line 15 seconds later. With the discard kicking in today, Ecstatic finishes the series in second overall, and Jerboa third.
The podium of the Flying 15 class was decided with a race to spare, with Rupert and John Mander's Men Behaving Badly counting only first places to take yet another class win. Nick Clarke's Black had a run of mostly second places to take second overall, while a mix of second, third and fourth places gave Mike Boll and Gil McCutcheon's Ffuraha third overall.
In the Mermaid class, following an unusually average seventh place on the opening day, Charles Glanville's Amethyst won the next five races to win the class with a day to spare. However, a number of boats were in contention for second and especially third place. Another win today for Glanville saw his position cemented at the top of the class, and placing him second overall in White Group, tied on points with Graham and Julia Bailey's Aimee from the Dragon class.
Third place today in the Mermaid fleet went to Kate Broxham's Scuttle, elevating her to second overall, two points ahead of Charles Tilley and Michael Smith's Bluebell, which scored a disappointing ninth today.
The Redwing class has seen a close fight for first place all week between last year's class and White Group overall winner, John Raymond and Matt Alexander's Harlequin and Bruce Huber's Quail, with the two boats separated by only one point at the start of the final race. The fleet also saw an equally tight battle for third place between Nick Rowton-Lee's Banzai ll and Colin and Becky Samuelson's Toucan.
Today there was a large fleet on the start line, initially led in by Nick Wakefield's Bizarre and Toucan, with Harlequin hanging back mid line, clearly conscious that they could not afford another OCS. However, it was Caroline and Edmund Peel's Redstart ll and Fraser Morrison's Skua that accelerated away from the line fastest. Redstart ll won today's race, ahead of Goose and Harlequin, but the top five overall places remained unchanged.
In the Sonar class Andy Cassell and Ken Newman's Jenny won today's race, finishing eight seconds ahead of Alistair Barter and Ed Suckling's Bertie. This cemented Cassell's position as overall class leader, winning the event four points ahead of Bertie. David Peerless' Miscreant took third overall.
In the Swallow class, Oliver Sloper's Marengo won today's race, ahead of Sir Malcolm Green's Archon and Anthony Lunch and Andrew Reid's Solitude. However, again the overall finishing order was unchanged after today's race, with Fiona Hampshire, Arthur Henderson and Honor Fell's Curlew taking first overall with 16 points, Paul Ward's Cockersootie second on 18 and Solitude third on 20 points.
In the Squib class Malcolm Hutchings and Andy Ramsey's Lady Penelope had their third consecutive overall win sewn up with a day to spare. However, the final race was needed to decide the outcome of the tight battle for second and third places between Duncan Grindley's Surprise on 14 points and David Coombes, Martin Harrison and Jerry Westbrook's Firecracker Too on 16 points.
With the tide now setting strongly to the west, one minute before the start there were a lot of boats pointing away from the line. Fred Warren-Smith's Aquabat looked to be first to luff onto a close hauled course, a split second before the gun, a couple of boats including Duncan Grindley's Surprise, both slightly to windward of Aquabat's line. Richard Bailey's Japp was also well placed at the start, a little to leeward of the leading trio.
By the finish of today's race Lady Penelope was two minutes ahead of Dick Batt's Squib, with Warren-Smith crossing the line in third place 12 seconds later. Today's result doesn't change the top three, but it sees Lady Penelope taking overall victory in White Group. "We are overwhelmed. It is fantastic to have won White Group after three years of trying and we are particularly pleased to be taking the trophy back to the east coast," said Malcolm Hutchings.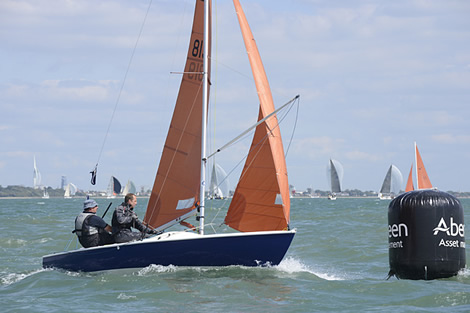 A nail-biting finale
At the start of the final day the XOD class results could not have been more open, with the top eight boats all having a mathematical chance of winning their championship. In today's start, with all of the leaders already carrying a large discard, none were tempted to push their luck and the line was comfortably clear at the gun.
Nick Brebner's Lark initially led an outer group of boats, while Al and Jackie Ashford and Richard Neall's Foxglove, and Steve Lawrence and the Smart brothers' Catherine headed groups towards the middle of the line. At the same time, Alastair Shaw's Phoenix carried out a successful port tack start from near the inner distance mark. Jonathan Clark's Zephyr also did well at the start, staying on starboard tack in clear air closer to the shore than the rest of the fleet, a tactic also adopted by Ben Paton's Annex, which was looking well placed in the early part of the first beat.
On the first run, to keep out of the adverse tidal stream, John Tremlett and Jeremy Lear's Lass, the leading boat at this stage, kept close to the Island shore, before popping out after Egypt Point heading for William's Shipping, off the southwestern edge of the Bramble Bank. However, some of the boats further back in the fleet crossed the Solent earlier across earlier, while others headed even further east along the Island shore.
This stage of the race was complicated by the 100,000 tonne Kuala Lumpa Express containership, that was passing the Bramble Bank in-bound to Southampton at the same time. Only the first three boats – Lass, Kim Slater, Robert Bedford and Simon 'Fumesy' Russell's Madeleine and David da Cunha's Mayday – got around the front of the ship in clear air, with quite a few of the next group forced to gybe around her stern. At Williams Shipping, the first three boats enjoyed a 300m lead, with Lass first by 10 lengths, and Madeleine half a length ahead of Mayday as they gybed at the mark.
These three finished the race at the head of the fleet and in that order. However, the container ship made little difference to the result of today's race – there was a huge bunch of boats right behind Madeleine. Paul Woodman and Oliver James' Ibex took fourth place just two seconds after Madeleine, at the head of a group of seven boats that crossed the line in just 18 seconds. Her win today gave Lass an emphatic overall win with 26.5 points. Madeleine takes second overall on 36.5 points and Michael Martell's Astralita third with 38 points.
Black Group
With the main series for Black Group yachts having concluded yesterday, today's racing was for individual day prizes for a smaller number of classes. With many yachts preparing for the start of tomorrow's 605 mile Rolex Fastnet Race, there were fewer racing today in the main IRC classes. However, the Cruiser Divisions were bolstered by a good number of additional boats that took advantage of today's simplified course, aimed at providing an introduction to racing at Aberdeen Asset Management Cowes Week.
In today's 13.2 mile race Cruiser Division A was won on corrected time by Peter Bainbridge's Sky Hunter ll, with Julian James' Thunder Squall second and Chris Masterson's Assarain lll third. The smaller boats in Cruiser Division B sailed a shorter 9.0 mile course, with Minka Armitage's 22-year-old Grand Soleil 343 Gazelle winning on corrected time ahead of Brian Cooper's First 375 Little Spirit. Andrew Buchanan, Rebecca Taylor and Stuart Buchanan's little Conquest 23 Haggis took third place today.
This concludes a week of champagne sailing conditions at the 2013 edition Aberdeen Asset Management Cowes Week that has seen some of the closest racing for many years, as well as the first classes in the event's long history to have two races per day, and the welcome return of some of the world's largest racing yachts.
Results
Black Group Overall
1, YES! (Adam Gosling)
2, ETB TYRES JIGGERY POKERY (Chaz Ivill)
3, RAGING BEE (Dussere Louis-Marie)
4, HARLEQUIN (Jonathan Calascione and Jonnie Goodwin)
5, INCOGNITO (Paul McNamara and Tony Lowe)
6, TOKOLOSHE (David Bartholomew)
7, WHISKERS (Cat Southworth, Liz Rushall and Lincoln Redding)

White Group Overall
1, LADY PENELOPE (Malcolm Hutchings and Andy Ramsey)
2, AMETHYST (Charles Glanville)
3, AIMEE (Graham Bailey)
4, DAUNTLESS (Giles Peckham, Milo Carver and Richard Romer-Lee)
5, JENNY (Andy Cassell and Ken Newman)
6, BETTY (Jon Powell)
7, HARLEQUIN (John Raymond and Matt Alexander)
8, SPORTSBOATWORLD.COM (Jerry Hill)

IRC Big Boat Series
1, RAN (Niklas Zennstrom)
2, BELLA MENTE (Hap Fauth)
3, 5 DEGREES WEST (Keith Mills)
4, PACE (Johnny Vincent)
5, GLADIATOR (Tom Wilson)
6, BRONENOSEC (Igor Frolov)
7, ESIMIT EUROPA 2 (Jochen Schumann)
8, AZZAM (Ian Walker)
9, SECRET MENS BUSINESS 3.5 (Geoff Boettcher)
10, CARO (Stuart Bannatyne)

IRC Class 1
1, 5 DEGREES WEST (Keith Mills)
2, PACE (Johnny Vincent)
3, GLADIATOR (Tom Wilson)
4, BRONENOSEC (Igor Frolov)
5, SGM (Marianna Strunnikova)
6, SECRET MENS BUSINESS 3.5 (Geoff Boettcher)
7, VENOMOUS (Derek Saunders)
8, TSAAR PETER (tbc)

IRC Class 2
1, TONNERRE DE BRESKENS 3 (P.W. Vroon)
2, MAGNUM3 POWERED BY SLAM (Andrew Pearce)
3, ITALIA (Richard Rankin)
4, TOE IN THE WATER TOO (Capt Lloyd Hamilton MBE)
5, OYSTERCATCHER XXX (Richard Matthews)
6, SAGA (Alain Foulquier)
7, ABERDEEN LONDON (Ash Holmes)
8, JOLT 2 (Peter Harrison)
9, VONDELING (Anthony Ward)
10, REBEL (Stewart Whitehead)

IRC Class 3
1, TOKOLOSHE (David Bartholomew)
2, CODIAM (Nicolas Loday)
3, PREMIER FLAIR (Jim Macgregor)
4, ZERO II LOCALLETTERBOX (James Gair)
5, COBRA GILL RACE TEAM (Michael Blair)
6, JIVARO (Yves Grosjean)
7, HURRYCANE (Kenny Bruneflod)
8, ABERDEEN SAILPLANE (Gordon Ketelbey)
9, CYBERARK (Alex & Andy Moore)
10, BRITANNIA LANCELOT II (Britannia Lancelot II)

IRC Class 4
1, YES! (Adam Gosling)
2, STRAIT DEALER (David Franks)
3, RHAPSODIE V (JJ Godet)
4, XINSKA (Bernard Olesinski)
5, BONEXEMPLE (Jochem Visser)
6, BENGAL MAGIC (Knight Build Ltd)
7, DUNKERQUE PLAISANCE (Dunkerque - Gill Race Team)
8, SAFFIER NITRO (Dennis Hennevanger)
9, TANIT (Richard Harris)
10, SALVO (Mr & Mrs Peter Morton)

IRC Class 5
1, RAGING BEE (Dussere Louis-Marie)
2, ZARAFA (Major Peter Scholfield)
3, ALARIS (John Howell)
4, WINSOME (Harry Heijst)
5, XCITABLE (Peter Hodgkinson and Sarah Bailey)
6, INDULJENCE (Nick Munday)
7, KING LOUIE (Fiona & Malcolm Thorpe)
8, EXTRA DJINN (Neville Hodkin)
9, JIN AND TONIC (Charles Nicholson and Neil McGrigor)
10, AMAZON (Tony and Chuffy Merewether)

IRC Class 6
1, ETB TYRES JIGGERY POKERY (Chaz Ivill)
2, BRIGHTWORK (Bob and Jon Baker)
3, BLACK DIAMOND (Justin Leese and Mark Brown)
4, J'RONIMO (David Greenhalgh)
5, SIMPLICITY (Rory Fitzwilliams)
6, CLARIONET (Sam Laidlaw and Rob Gray)
7, INSATIABLE (Tim Cunliffe)
8, ICOM COOL BLUE (Simon Cory)
9, MOGAN (Graham Thursfield)
10, CHIA CHIA (Eagleton/Waterhouse)

IRC Class 7
1, WOOF (Jo Richards)
2, MADELAINE (Madelaine and Isobella Donald)
3, MANDARIN (Paul Dunstan)
4, FIANCHETTO (Ed Brand)
5, VINYL SOLUTIONS (William Lack)
6, JIMINY CRICKET (Mike & Barbara Harrison)
7, MW DREAM ON (Nathan Cordy)
8, CONNIE (Ian Stow)
9, TWO FRANK (Oliver Love and Samantha Flint)
10, GOOGLE-EYE (Pat Stables and Nigel Hunter)

IRC Class 7A
1, WOOF (Jo Richards)
2, FIANCHETTO (Ed Brand)
3, VINYL SOLUTIONS (William Lack)
4, TWO FRANK (Oliver Love and Samantha Flint)
5, GOOGLE-EYE (Pat Stables and Nigel Hunter)
6, BURHOU (Team Greatlets.com)
7, CONTEZA (David Kirkley)
8, JUPITER (Edmund Gatehouse)
9, FUSION 3 (Will Bridge)
10, KOCHI (Gareth Jones)

IRC Class 7B
1, MADELAINE (Madelaine and Isobella Donald)
2, MANDARIN (Paul Dunstan)
3, JIMINY CRICKET (Mike & Barbara Harrison)
4, MW DREAM ON (Nathan Cordy)
5, CONNIE (Ian Stow)
6, MEOW (Chris Charlesworth)
7, EXOCET (Tom Firth)
8, HANNAH J (Richard & Sarah Johnson)
9, MERGANSER (Catherine Munro Kerr)
10, IF.... (Martin Moore, Caroline Hoy and Simon Coombes)

Contessa 32
1, BLANCO (Ray Rouse)
2, DRUMBEAT (Eldred Himsworth)
3, BLUE SHARK (Ken Mizen and Don Laing)
4, GUALIN (Rob Duke)
5, NIMBUS (Michael Hill)
6, JEMMA OF BOSHAM (Keith Hardy and Tim Hardy)
7, CORAFIN (Jess Hoggarth)
8, MARY ROSE TUDOR (Ed Bell)
9, COH KAREK (Tim Devlin)

Cork 1720
1, CRESCENDO (James W Flynn O.B.E)
2, PREMIER CRU (Tom Richardson)
3, MIDNIGHT COWBOY (Steph Merry)
4, RUM N CORK (Livingstone Lewis)

Cruiser (Div A)
1, SKY HUNTER II (Peter Bainbridge)
2, BREVITY (Mark Devereux)
3, ALAMARA B II (Ole Bettum)
4, THUNDER SQUALL (Julian James)
5, WHITE HEATHER (Janet, Lionel and David Miller)
6, ANNARCHY OF WIGHT (Anne Noon)
7, DOTTY DOT (Clive Cutler)
8, THE PACKHOUSE (Alison Hougham)
9, SHONEY (Jack Boucher)
10, PHIZZ OF CAEN (Trevor Hardaker)

Cruiser (Div B)
1, GAZELLE (Minka Armitage)
2, HAGGIS (Andrew Buchanan, Rebecca Taylor and Stuart Buchanan)
3, LITTLE SPIRIT (Brian Cooper)
4, WIDGEON (Nick Fletcher)
5, SUNBOW II (Andrew Quicke)
6, FORRADER (David Hall)
7, KALIMA II (Andrew Prynne)
8, MIGHTY CRAIC (Nigel Northridge)
9, SAPHIR (Tony Mace)
10, SKAI (Andrew Yates)

Daring
1, DAUNTLESS (Giles Peckham, Milo Carver and Richard Romer-Lee)
2, DECOY (Andrew Norton, Richard Ottaway, David Chaplin, Julian Goodwi)
3, DEFENDER (J Preston, P Morton and R Laird)
4, DYNAMITE (Anthony Balme)
5, DEFIANT (C A G Perry, R A Aisher OBE, P Blackwell, P Buckley, P L F F)
6, DAMSEL (Jamie Scrimgeour, Daniel Stephenson, Jamie Campbell and Mich)
7, DOUBLE KNOT (John Hackman)
8, DOLPHIN (David N Gower)
9, DREAMER (Mrs Charles Perry)
10, STREAK (Hamish Janson, George Dibben and Malcolm Lofts)

Dragon
1, AIMEE (Graham Bailey)
2, ECSTATIC (Eric Williams)
3, JERBOA (Gavia Wilkinson-Cox)
4, FURIOUS (Owen Pay)
5, THE OLD BAILEY (Chris Brittain)
6, BERTIE (Simon Barter)
7, GANADOR (Martin Makey)
8, NAIAD (Mike Hayles)
9, VIRAGO (Tim Blackwell and Lisa Guy)
10, CHIME (Michael Issaias)

Etchells
1, STAMPEDE (Rob & Ashley Goddard)
2, EXABYTE V (Shaun Frohlich)
3, DARLING S (Tarra Gill-Taylor)
4, ICE (Andrew, Donna and Freddie Cooper)
5, FREELANCE (Laurence Mead)
6, ZIGGY (Kevin Downer, Timothy Eccles and Josh Downer)
7, MOONLIGHT (Mark Downer)
8, SHAMAL (Hugh Evans and Roger Reynolds)
9, IDEA (Jack Wilson)
10, ESPRIT (Robert Elliott)

Figaro II
1, ARTEMIS FIGARO 37 (Ed Hill)
2, ARTEMIS FIGARO 23 (Sam Matson)
3, ARTEMIS FIGARO 43 (Alex Gardner)
4, ARTEMIS FIGARO 77 (Jack Bouttell)
5, ARTEMIS FIGARO 21 (Robin Elsey)
6, SHELTERBOX (Sam Goodchild)

First 40
1, ABERDEEN SAILPLANE (Gordon Ketelbey)
2, HURRYCANE (Kenny Bruneflod)
3, LA REPONSE (Andrew McIrvine)
4, CYBERARK (Alex & Andy Moore)
5, BRITANNIA LANCELOT II (Britannia Lancelot II)
6, MINX 3 (Jonathan Gardiner)
7, JPM ASSEST MANAGEMENT (JP Morgan Asset Management)
8, BERRY ASSET MANAGEMENT (Berry Asset Management PLC)
9, BRITANNIA ROCKET DOG (Britannia Rocket Dog)
10, SOUTHERN CHILD (Performance Yacht Charter)

First 40.7
1, INCOGNITO (Paul McNamara and Tony Lowe)
2, MITCHELLSON INTERCEPTOR (James Wilkie)
3, ANTICIPATION (Peter Newlands)
4, PLAYING AROUND (Francis Carr)
5, FANDANGO (Brendan McMahon and Adam Ridett)
6, EDIGITAL RESEARCH (eDigital Research)
7, BRITANNIA LANCELOT (Britannia Lancelot)
8, FLYING FISH HOT STUFF (Flying Fish)
9, BRITANNIA PARALLEL BLUE (Britannia Parallel Blue)
10, EUROTANK S&B (Solent Events)

Flying 15
1, MEN BEHAVING BADLY (Rupert and John Mander)
2, BLACK (Nick Clarke)
3, FFURAHA (Mike Boll & Gil McCutcheon)
4, FFREEFIRE 20 (Sam Chan)
5, AFFORE THE WEAK (Mike & Alex Tatlow)
6, TRIFFS (Richard Triffitt)
7, DOUBLE TROUBLE (Andrew Rutherford)
8, SOUFFLE (Alastair Scammell)

GC32
1, SPAX SOLUTION (Laurent Lenne)
2, MARWIN (Flavio Marazzi)
3, TIME ON THE WATER (Hugh Styles)

HOD 35
1, ZARAFA (Major Peter Scholfield)
2, WHITE KNIGHT OF WESSEX (James Neville)
3, COMEDY OF ERRORS (Tony White)

J/70
1, TEAM RAFBF SPITFIRE (Wing Commander Simon Ling RAF)
2, JUGADOR (Jack Davies)
3, WILSON COVERS (Ian Wilson)
4, NORTH SAILS (Ruairidh Scott)
5, DJANGO (Malcolm Jaques, Tristan Jaques, Naomi Rowbotham and Nix Broo)
6, JENGA 8 (Paul & Marie-Claude Heys)
7, BOATS.COM (Ian Atkins)
8, PHEEBS (Simon Cavey)

J/80
1, J.A.T (Chris Taylor)
2, DOOLALLI (Colin Simonds and Family)
3, RASCAL (Johanna Asplund, Meg Backhouse, Jamie Diamond, Kieren Hill a)
4, SEAFIRE (Ben Richards and Andrew Dallas)
5, JUICY (Donald Suter, Tom Samuels, Russell Hearn, Peter Carroll)
6, WILD WALLY (Robert Walters, David Walters and James O'Neill)
7, JUMBLESAIL (Rachel Woods and Rob Hunt)
8, JASMINE (Flora Greville)
9, SWALLOW (Chris Body)
10, BLUES IN J (Andrew Edwards)

J/80 (modified)
1, DARWIN PROPERTY (Charlie Esse)
2, ROYAL JUAN (Christopher Hill)
3, ROYAL 3 (Christopher Daniel)
4, ROYAL 2 (Sophie Sheldon)
5, ROYAL 4 (Sarah Fraser)

J/105
1, KING LOUIE (Fiona & Malcolm Thorpe)
2, JIN AND TONIC (Charles Nicholson and Neil McGrigor)
3, JOURNEYMAKER 5 (Chris Jones)
4, JACANA (Paul Wood)
5, JOS OF HAMBLE (Professor Roger Williams)
6, FAY-J (Stan Fenton)
7, MOSTLY HARMLESS (Natalie Jobling)

J/109
1, HARLEQUIN (Jonathan Calascione and Jonnie Goodwin)
2, JUNO (Stanley,Walker and Williams)
3, INSPARA (Tor Mclaren)
4, JOULE (Arjen van Leeuwen)
5, JET (Christopher Sharples and Richard Acland)
6, JUMPING JELLYFISH (Christopher Kearns)
7, BASIC INSTINCT (Mr Patrick Seely)
8, JUMUNU (Jamie Sheldon)
9, SARDONYX IX (William Edwards)
10, DIAMOND JEM (Robert Stiles)

J/111
1, JEEZ LOUISE (James Arnell)
2, SHMOKIN JOE (McDonald/Thomas)
3, TOE IN THE WATER (Capt Lloyd Hamilton MBE)
4, J-DREAM (David & Kirsty Apthorp)
5, MCFLY (Tony Mack)
6, JITTERBUG (Cornel Riklin)
7, ICARUS (Andrew Christie and John Scott)
8, SWEENY (Sweeny Sailing Team)
9, DJINN (S de Liedekerke)

Mermaid
1, AMETHYST (Charles Glanville)
2, BLUEBELL (Charles Tilley & Michael Smith)
3, SHEEN (John Edwards)
4, ZARA (Will Caws)
5, JADE (Helen Birchenough)
6, SCUTTLE (Kate Broxham)
7, ADASTRA (John Turner and Johnny King)
8, MIMOSA (Jamie Nimmo)
9, SIRENA (Max Baines)
10, DRAGONFLY (Richard Prest)

Multihull
1, BUZZ (Phil Cotton)
2, WANDERING GLIDER (Matthew West)

Nautor's Swan Trophy
1, BRONENOSEC (Igor Frolov)
2, SHEEVRA (Jonathan Wallis)
3, VONDELING (Anthony Ward)
4, BEWICK OF COWES (Robin Lucas, Doug Pennycuick, Richard Heighton, and Andrew L)
5, SOMETHING (Mike Bailey and Andy Roy)
6, LUTINE (Liz Lotz and Lloyd's Yacht Club)
7, BELLA NOVE (Nick Maddalena)
8, SGM (Marianna Strunnikova)
9, ASTRA (Jeremy Paul)
10, NORTHERN CHILD (Performance Yacht Charter)

Quarter Ton
1, WHISKERS (Cat Southworth, Liz Rushall and Lincoln Redding)
2, MAGNUM EVOLUTION (Eric Reynolds)
3, BLACKFUN (Tony Hayward)
4, INNUENDO (R Swinney, B Byham and R Boxell)
5, CRI-CRI (Paul Colton)
6, PER ELISA (Richard Fleck)
7, JOKER (Ed White)
8, PHOENIX (Welch, Fulford, Flemming and Manser)
9, BAD TOAD (Roberts/Assael)
10, RAGTIME 2 (Tony Newberry)

Redwing
1, HARLEQUIN (John Raymond and Matt Alexander)
2, QUAIL (B Huber, C Blackburn, A Greene)
3, BANZAI II (Mr & Mrs Nick Rowton-Lee and Mr & Mrs Rory Morrison)
4, TOUCAN (Colin & Becky Samuelson)
5, REDSTART II (Caroline and Edmund Peel)
6, GOOSE (Major Nick Woolgar and Olav Cole Esq)
7, RED GAUNTLET II (Anne Robertson, Joe Robertson and Bel Robertson)
8, PAROQUET (James Axtell and Lucy Benham)
9, MUSICUS (David McCue and Nicholas Robertson)
10, GOSLING (Serena Gosling)

Reflex 38
1, PUMA LOGIC (Sailing Logic)
2, INTUITION (Capstan Sailing)
3, LIGHTNING REFLEX (Geoffrey West)
4, LION LOGIC (Sailing Logic/Linklaters)
5, JAGUAR LOGIC (Sailing Logic/Linklaters)

RS Elite
1, KANDOO III (Crauford)
2, AEOLUS (Jono Brown)
3, E'TU (Steve Powell)
4, WOMBAT (Jonathon Proctor)
5, ESCAPADE (Mark Allerston)
6, USAIN BOAT (Peter Dudgeon)
7, LIMELITE (Andrew Christie)
8, FLYING A (Anthony & Alice Duggan)
9, SOAK THERAPY (Egerton-Warburton Family)
10, GALADRIAL (Alasdair McLeod)

SB20
1, SPORTSBOATWORLD.COM (Jerry Hill)
2, GILL (Sarah Allan)
3, VOLVO (Helena Lucas)
4, CHILL PILL PLUS (Scott Graham and Nick Elder)
5, EDIGITALRESEARCH (Charles Russell)
6, SPONGEBOB (Syd McLean)
7, 3-SOME (Duncan Pryde)
8, RB RACING (Doig and Butterworth)
9, SAIL NAVY (Royal Naval Sailing Association)
10, TURBULENCE TOO (Paul & Natalie French)

Sigma 33
1, WHIPPA SNAPPA (Richard J Puddifoot)
2, EXCELLE (T Claridge and J Fox)
3, WORKOUT (Jeff Worboys)
4, SPIRIT OF KUDU (Mark Watkins)
5, PROSPERO OF HAMBLE (Allan Fraser)
6, CHASER (David Cheney)
7, MUSKOKA (Ed Smith)
8, POLISHED MANX (Kuba Szymanski)

Sigma 38
1, WITH ALACRITY (Chris & Vanessa Choules)
2, MEFISTO (Kevin Sussmilch)
3, PAVLOVA III (Max Walker)
4, VITESSE (Peter Hopps and Hilary Cook)
5, GAMBIT (Cees Schrauwers)
6, SIGMANIA (David Linton)
7, LIGHT (John & Susan Rainger)
8, FLYING FORMULA (David McCarthy)
9, SIGMAGICIAN (Sigmagician's)
10, RHO (Equinox Sailing)

Sonar
1, JENNY (Andy Cassell and Ken Newman)
2, BERTIE (Alistair Barter and Ed Suckling)
3, PARALYMPIC GIRLS TEAM (Hannah Stodel, Megan Pascoe, Carol Dugdale, Bella Walsh and)
4, MISCREANT (David Peerless)
5, PERISCOPE (Peter Collins)
6, BISCUIT (Rosy Jones)
7, PISCES (Greg Driver and Penny Carter)
8, DISCOVERY (Brian Malone)
9, WISCONSIN (James Holman)
10, FISCAL (Steve Hargreaves)

Sportsboat
1, BETTY (Jon Powell)
2, OH NO (Julian Cook and Caroline Aisher)
3, DARWIN PROPERTY (Charlie Esse)
4, CRESCENDO (James W Flynn O.B.E)
5, ROYAL JUAN (Christopher Hill)
6, FER DE LANCE (Glyn Locke)
7, CLIPPER MARINE B/ONE (Richard Root)
8, OFFICER CADET (OCdt George Jorgensen)
9, MIDNIGHT COWBOY (Steph Merry)
10, ROYAL 3 (Christopher Daniel)

Squib
1, LADY PENELOPE (Malcolm Hutchings and Andy Ramsey)
2, SURPRISE (Duncan Grindley)
3, FIRECRACKER TOO (Andrew Porteous, David Coombes and Jerry Westbrook)
4, SQUIB (Dick Batt)
5, AQUABAT (Fred Warren-Smith)
6, LIZZ WHIZ (Ray Prime)
7, ALDEBARAN (Iain Jones and Peter Jackson)
8, OSPREY (Chris Gear, Andy Foulks and Miss Alex Porteous)
9, PANTHER III (Amy Gaskin and George Downer)
10, SATU (Kev Gibson and Marney Gibson)

Sunbeam
1, DANNY (Roger Wickens)
2, FIREFLY (Stewart Reed)
3, FLEURY (Joe Burnie)
4, MELODY (Commander John Ford)
5, FAY (Richard Pearson)
6, PENNY (Julian Money)
7, MYSTERY (Viv Williams)
8, QUERY (Tim Hill)
9, ALCHEMY (Mark & Nicola Harvey)
10, DAINTY (Peter Nicholson and Mike Hollis)

Sunsail F40
1, FIRST SAILING (First Sailing)
2, PANIK (Panik)
3, SIMPLY (Simply)
4, CARDIOVASCULAR HEALTH (The Cardiovascular Health Clinic)
5, ABERDEEN EDINBURGH (Aberdeen Edinburgh)
6, SCHRODERS ALPHA (Schroders Alpha)
7, CAZENOVE DIVERSITY (Casenove Diversity)
8, HOWDEN (Howden)
9, DELOITTE 3 (Deloitte 3)
10, DELOITTE 2 (Deloitte 2)

Swallow
1, CURLEW (CUCrC: Fiona Hampshire, Arthur Henderson and Honor Fell)
2, COCKERSOOTIE (Paul Ward)
3, SOLITUDE (Anthony Lunch and Andrew Reid)
4, MARENGO (Oliver Sloper)
5, MIGRANT (Charles Fisher and Richard & Carol Thompson)
6, WHIMBREL (Peter Snell)
7, ARCHON (Sir Malcolm Green)
8, AVOCET (John Houghton)
9, KINGFISHER (Graham Barnes and Tim Wood)
10, HARRIER (Charles Prescot)

Swan 60
1, BRONENOSEC (Igor Frolov)
2, SGM (Marianna Strunnikova)
3, TSAAR PETER (tbc)

Victory
1, VARIETY (Janet Dee and Shaun Hopkins)
2, PELICAN (Hugh Pringle)
3, ZIVA (Mark Dennington, Jo Dennington and Jim Downing)
4, ZINNIA (John Scammell)
5, ZELIA (Geoff & Sarah Dixon, Maxine Reeves and Hugh Winter)
6, SHEARWATER (Russell Mead)
7, ZEST (KF and SA Taylor)
8, ZIRCON (Gareth Penn)
9, MINX (Team Terry - Andrew, Carole and Lauren)
10, PEREGRINE (Duncan Evans)

X One Design
1, LASS (John Tremlett, Jeremy Lear, Richard Jordan and Richard Bullo)
2, MADELEINE (Kim Slater Robert Bedford and Simon Fumesy Russell)
3, ASTRALITA (Michael Martell)
4, SILHOUETTE (Tom Vernon)
5, PHOENIX (Alastair Shaw)
6, CATHERINE (Steve Lawrence and the Smart brothers)
7, GLEAM (James Meaning)
8, LUCREZIA (Ado Jardine)
9, LONE STAR (Stuart Jardine)
10, IBEX (Paul Woodman and Oliver James)

The Westmacott Trophy
1, AMETHYST (Charles Glanville)
2, LASS (John Tremlett, Jeremy Lear, Richard Jordan and Richard Bullo)
3, MADELEINE (Kim Slater Robert Bedford and Simon Fumesy Russell)
4, ASTRALITA (Michael Martell)
5, VARIETY (Janet Dee and Shaun Hopkins)
6, SILHOUETTE (Tom Vernon)
7, PELICAN (Hugh Pringle)
8, ZIVA (Mark Dennington, Jo Dennington and Jim Downing)
9, PHOENIX (Alastair Shaw)
10, FIREFLY (Stewart Reed)

Under 25 Trophy
1, J.A.T (Chris Taylor)
2, MITCHELLSON INTERCEPTOR (James Wilkie)
3, CURLEW (CUCrC: Fiona Hampshire, Arthur Henderson and Honor Fell)
4, DARLING S (Tarra Gill-Taylor)
5, MW DREAM ON (Nathan Cordy)
6, MARENGO (Oliver Sloper)
7, RASCAL (Johanna Asplund, Meg Backhouse, Jamie Diamond, Kieren Hill a)
8, JUGADOR (Jack Davies)
9, PANTHER III (Amy Gaskin and George Downer)
10, RHAPSODY IN BLUE (Emma Baker and Sam Prime)

Young Skipper's Trophy
1, BERTIE (Alistair Barter and Ed Suckling)
2, J.A.T (Chris Taylor)
3, DARWIN PROPERTY (Charlie Esse)
4, MITCHELLSON INTERCEPTOR (James Wilkie)
5, CURLEW (CUCrC: Fiona Hampshire, Arthur Henderson and Honor Fell)
6, DARLING S (Tarra Gill-Taylor)
7, PARALYMPIC GIRLS TEAM (Hannah Stodel, Megan Pascoe, Carol Dugdale, Bella Walsh and)
8, MW DREAM ON (Nathan Cordy)
9, MARENGO (Oliver Sloper)
10, RASCAL (Johanna Asplund, Meg Backhouse, Jamie Diamond, Kieren Hill a)

J/70 short series
1, NORTH SAILS (Ruairidh Scott)
2, DJANGO (Malcolm Jaques, Tristan Jaques, Naomi Rowbotham and Nix Broo)
3, TEAM RAFBF SPITFIRE (Wing Commander Simon Ling RAF)
4, BOATS.COM (Ian Atkins)
5, WILSON COVERS (Ian Wilson)
6, JUGADOR (Jack Davies)
7, PHEEBS (Simon Cavey)
8, JENGA 8 (Paul & Marie-Claude Heys)

SB20 Grand Slam
1, SPORTSBOATWORLD.COM (Jerry Hill)
2, HENRI LLOYD / FORELLE (Joe Llewellyn)
3, SLAM (Tim Saxton)
4, VOLVO (Helena Lucas)
5, MELSTON TEAM (Kirill Frolov, Alexey Murashkin and Egor Ignatenko)
6, GILL (Sarah Allan)
7, CHILL PILL PLUS (Scott Graham and Nick Elder)
8, BCG SAILING TEAM (Konstantin Lukoyanov)
9, DARLING ASSOCIATES (Chris Darling)
10, WHYADUCK (Tom and Richard Clay)
Back to top
Back to top