Artemis Challenge line-up
Some of the biggest names in offshore ocean racing are gearing up to take on the Isle of Wight in the 2013 Artemis Challenge at Aberdeen Asset Management Cowes Week on 8 August. The fleet boasts some of the most experienced big boat sailing stars from the UK and France, who will be joined by a number of VIP guests as they bid to claim £10,000 for their nominated charities.
While the 2012 race saw Michel Desjoyeaux set a new world record for the lap of the Isle of Wight on his MOD70 Foncia for circumnavigating the Isle of Wight, the forecast for Thursday suggests a challenge to the record is unlikely. Nonetheless the competitors from pulling out all the stops to be first across the finish line.
At 1000 on Thursday two trimarans and seven IMOCA 60s will set off from the Squadron line and sail clockwise around the Isle of Wight, although the course format may be changed according to the wind conditions.
The multihulls will be skippered by two well known French skippers. Sidney Gavignet will be skippering the MOD70 Oman Air-Musandam and Seb Josse will be driving the 77ft Gitana 11 respectively. The Omani boat will also be hosting British Olympic sailing medallist Paul Goodison and celebrated solo yachtswoman Dee Caffari among her crew.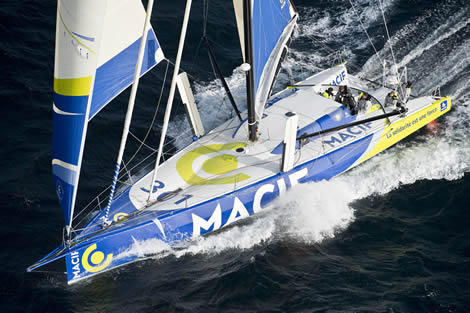 The fleet of IMOCA 60s brings together the cream of the Vendée Globe, including the 2012 winner Francois Gabart on MACIF, who will be joined by legendary offshore sailor, the 2000 and 2008 Vendee winner Michel Desjoyeaux. Meanwhile the 2004 Vendee Globe winner, Vincent Riou will be taking part aboard PRB.
Flying the flag for Britain will be Alex Thomson on Hugo Boss, Brian Thompson skippering Artemis Ocean Racing and Mike Golding on Mike Golding Yacht Racing. Thomson will be joined by rising British actor Douglas Booth while Artemis Ocean Racing will host celebrated chef Mitch Tonks (backer of Henry Bomby's Figaro campaign), who commented: "It is just brilliant to be involved with the Artemis Challenge – food and sailing are two of my favourite things in life so to get on board one of these boats will be a dream. I can't wait."
The fleet of IMOCA 60s is completed by a number of decorated solo sailors including two time Around Alone/Velux 5 Oceans winner Bernard Stamm on Cheminées Poujoulat and Marc Guillemot on Safran.
An overall Artemis Challenge Trophy will be awarded to the winning team with the best added elapsed time. Each team is made up of several IMOCA 60s and one of the trimarans, which will be decided on the morning of the race. £5,000 will be donated by Artemis Investment Management to the winning teams' charities of choice and £2,500 will also be donated to the fastest IMOCA 60 and the fastest trimaran to cross the finish line.
Artemis Challenge 2013 – Entries
Multihulls
Oman Air-Musandam/Sidney Gavignet(FRA)/Paul Goodison & Dee Caffari/El Hayat
Edmond de Rothschild/Seb Josse(FRA)/N/A/Joves Navegants
Monohulls

Artemis Ocean Racing II/Brian Thompson(GBR)/Mitch Tonks/Toe in the Water
Hugo Boss/Alex Thomson(GBR)/Douglas Booth/Kibera in Need
PRB/Vincent Riou(FRA)/Jean Le Cam/TBC
Cheminées Poujoulat/Bernard Stamm (SUI)/Juan Kouyoumdjian/Planete Enfants
Safran/Marc Guillemot(FRA)/Pascal Bidegorry/TBC
MACIF/Francois Gabart(FRA)/Michel Desjoyeaux/SNSM
Mike Golding Yacht Race/Mike Golding(GBR)/N/A/RNLI/Save the Children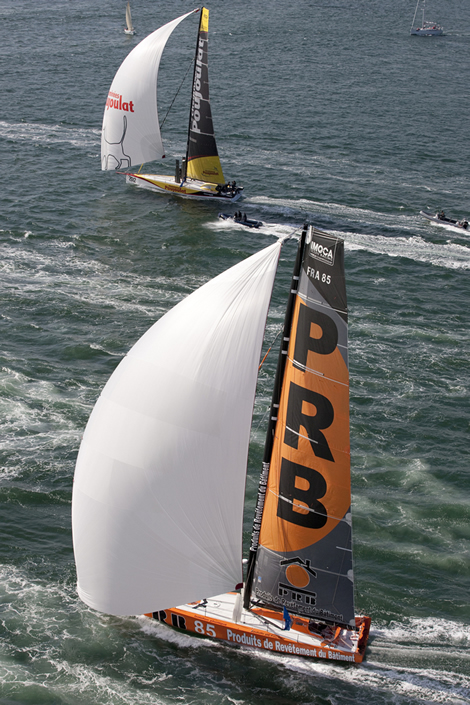 Back to top
Back to top