Bertarelli to compete at Hamo
Thursday July 4th 2013, Author:
Rob Mundle
, Location: none selected
Two-time winner of the America's Cup, Switzerland's Ernesto Bertarelli, has confirmed he will be competing at the 30th staging of Audi Hamilton Island Race Week over 17 to 24 August.
Bertarelli, 47, has chartered Wild Oats X – the 66ft Admiral's Cup winner owned by Bob Oatley – as his entry for the regatta, and will have some of his America's Cup team, including Kiwi tactician, Brad Butterworth, sailing with him.
Bertarelli has also advised he will have his 96m superyacht Vava II at Hamilton Island for Race Week. The six-deck motor yacht is on a world cruise to raise funds for YachtAid Global, an organisation supporting humanitarian and environmental causes.
In 2003 Bertarelli, then aged 37, became the first challenger to win the America's Cup with a first-time campaign, and also the first person to take the cup – the oldest trophy in the history of sport – to Europe. He then successfully defended the prize against the New Zealand challenger in 2007, but lost to America's Larry Ellison in a controversial multihull challenge in 2010.
Bertarelli and Butterworth have had the canting-keeled Wild Oats X modified in preparation for their tilt at winning the IRC Grand Prix Division at Audi Hamilton Island Race Week. The forward rudder has been removed and replaced by a new daggerboard configuration, and new sails have been ordered.
"It's going to be exciting to see Ernesto racing at Audi Hamilton Island Race Week," said Mark Richards, who has been skipper of Wild Oats X for Bob Oatley, and will be steering Oatley's Sydney-Hobart race record holder maxi, Wild Oats XI, at this year's regatta. "Having Ernesto, Brad and the team competing certainly says a lot about Race Week's status in the world of yachting."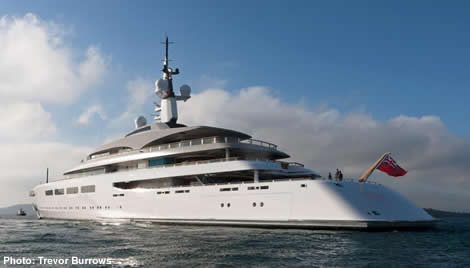 Back to top
Back to top